Give Dad the Heart-Healthy Gift of Santa Carota Carrot Beef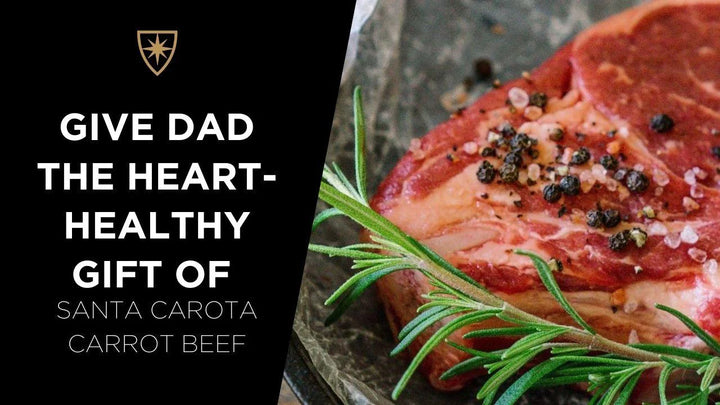 With Father's Day just around the corner, it's time to start thinking about giving Dad a gift that he's going to love. Sure, you could go the traditional route and give him a tie or a classic homemade gift from the children. However, if you're looking for something a little more unique, then why not consider giving him the gift of Santa Carota Carrot Beef from Holy Grail Steak?
What is Santa Carota Carrot Beef?
If you're not familiar with the Holy Grail Steak brand, then you're missing out on a delicious treat. Holy Grail specializes in carrot-fed cattle — which produces the best-tasting beef around — and is the exclusive provider of Santa Carota Carrot Beef.
These cattle are grass-fed from the very beginning, which means they get their nutrition from the natural grasses in the pasture, rather than being given an artificial diet of grains and other additives. This type of diet is much healthier for the animals and the environment, and it also produces a superior-tasting product.
As the cattle grow, they are also introduced to carrots and eventually become carrot finished, which means their diet will become primarily carrot-based. Not only does this create a healthier animal, but it also makes for a delicious steak. The carrot-fed cattle are also free of:
Antibiotics
Hormones
GMOs
They also contain more vitamins — such as B12 and beta carotene — than other brands, are considered gluten-free, and are low in saturated fats.
What Makes Santa Carota Carrot Beef Heart-Healthy?
If you're looking for a gift that will not only wow Dad but will also be good for him, then this product is a perfect choice. It's heart-healthy and a lean source of protein.
Santa Carota Carrot Beef is low in calories and fat, which is excellent for someone who is watching his weight or monitoring his cholesterol. It's also rich in vitamins A and C, which are excellent for the immune system and help keep the body healthy.
Best Ways to Cook Santa Carota Carrot Beef
Did you know that, because Santa Carota Carrot Beef is so low in saturated fat, their steaks cook an average of 20 to 30 percent faster than your standard steak?
That means that Dad can spend less time at the grill and more time enjoying an amazing piece of meat with his loved ones.
The best methods to cook your Santa Carota Carrot Beef will depend on which cut of meat you choose. Currently, we offer several, including our prestige cuts:
For a rare steak, the meat should always be cooked to a minimum of 120 degrees Fahrenheit. If you prefer your steak to be cooked longer, then you'll want to follow this simple internal temperature guide:
Medium-Rare Meat: should be cooked to 130-135 degrees Fahrenheit
Medium: 140-150 degrees Fahrenheit
Medium-Well: 155-165 degrees Fahrenheit
Well-Done: 170+ degrees Fahrenheit
4 Recipes to Consider This Father's Day
If you're creating a meal for your father this Father's Day, consider trying one of these Santa Carota Carrot Beef recipes. They're delicious, and simple to make!
1. Grilled Santa Carota Steak with Thyme Butter
A classic option worth considering is a grilled Santa Carota steak with thyme butter. You simply grill your steak as usual, then top it off with some melted thyme butter for extra flavor.
You could also pan-sear your steak and cook it in the melted thyme butter —giving it more bang for your buck.
2. Santa Carota Carrot Beef and Mushroom Stir Fry
If you want to try something a little bit different, then why not cook up some of the best beef and mushroom stir fry you've ever tried? Instead of a large hardy steak, you'll simply want to go with strip steak cut to your desired size. All you need to do is season and cook your meat to your desired doneness and then add it to your stir fry!
3. Santa Carota Carrot Beef Tacos
Who doesn't like tacos? If you want to celebrate Father's Day (or any day for that matter!) with a plate of beef tacos, then you'll simply want to choose your favorite cut of steak (most choose strip, skirt, or flank steak) and cut it into thin slices. Simply cook it with your favorite taco or fajita seasoning and enjoy!
Let Us Help You Celebrate Your Father This Father's Day
If you're looking for a healthy, lean protein that will really get Dad's attention this Father's Day, then look no further than the Santa Carota Carrot Beef from Holy Grail Steak. It's delicious, heart-healthy, and a perfect gift for the special man in your life.
Here at Holy Grail Steak, we only provide the best of the best to our customers, which is why we are proud to be the sole distributors of Santa Carota Carrot Beef. Our goal is to provide our customers with a product they can enjoy, and we believe that Santa Carota Carrot Beef is the perfect addition to any dinner.
We've spent years researching the best methods for producing the healthiest animals and the tastiest steaks possible. This Father's Day, give Dad a gift he will love — Santa Carota Carrot Beef.
---