Create a Personalized Steak Gift For Your Clients or Employees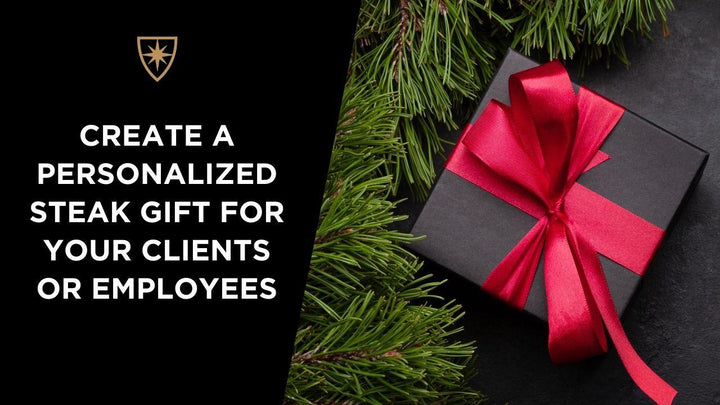 Corporate gifting is an excellent way for businesses to show appreciation, reward employees or clients, and generate goodwill. With the Holy Grail Steaks corporate gifting program, everyone will enjoy delicious wagyu steaks delivered right to their door.
Why Employees (and Your Clients) Will Appreciate a Corporate Gift
Did you know that more than 80% of employees who receive corporate gifts feel appreciated by their employers? Furthermore, employees who feel recognized for their hard work are more productive. 
When building solid relationships with your clients, corporate gifts show them you appreciate their business. Loyal customers are return customers. 
Therefore, joining a corporate gifting program is an investment in your company. Your employees will work harder, improving their productivity and your bottom line. Clients will continue to purchase from your organization, which also increases profits. 
For that reason, there really is no downside to gifting steaks to either (or both) your staff or your loyal clients. 
Why Steaks Make the Best Gifts
Steaks are easy to prepare, taste great, and can provide a wow factor with the people you're trying to show appreciation for. From Filet Mignon to the Holy Grail of burgers, no one will be disappointed to receive such a delicious gift.
If your organization is looking for ways to reward your employees for their hard work or thank your clients for their loyalty, you can't go wrong by gifting them the very best steaks. 
Corporate gifting programs are an excellent way to offer these gifts to your staff or customers. The best part (besides delectable steaks being delivered right to their front doors) is how reasonably priced these packages can be.
Not only will you get a good deal, but there are lots of ways to customize the gift for the lucky recipient.
What Can They Get with Their Corporate Gift?
What makes Holy Grail Steaks' new corporate gifting program the best choice for your company is the high-quality steaks your employees and staff will receive. We choose only the best cuts and are truly hard to find anywhere else. 
As self-proclaimed steak nerds, we take our steaks very seriously. We are one of the few places in the U.S. where you can actually order certified authentic Kobe beef online. However, that is not the only high-quality steak they offer. 
Their collections include:
4 Reasons to Give the Ultimate Corporate Gift
Are you ready to give a gift that shows how much you appreciate those who make your business a success? Then it's time to look at the reasons to gift any carnivores this dream present.
1. Volume Discounts
At Holy Grail Steaks, you already receive the best prices. When you join their corporate gifting program, your company will be able to enjoy even better prices. They can offer volume discounts on their already low prices, making it an even more valuable service and an investment for any business.
2. Dedicated Products Portal
Imagine receiving a customized gift, so you get exactly what you want every time. With the dedicated portal, that is what your employees or clients will get. You can give these corporate gift boxes without worrying they will want everything in their packages. They get to decide.  
3. Top-Notch Delivery
When you order steaks from Holy Grail Steaks, they arrive on time. More importantly, they vacuum seal every steak before blast freezing them at -30F to preserve the steaks in their original state, perfectly aged, and without compromising their amazing quality.
Each order is shipped frozen with dry ice in a state-of-the-art shipping container to ensure the steaks arrive in excellent condition. The outer shipper is 100% recyclable, and the interior insulation materials are biodegradable.
Processing and delivery of all orders take 1-3 days. They ship the steaks directly, so there will be no delay – they even offer overnight delivery.
Keep in mind, however, that they will not ship to a post office box. They want to ensure quality steaks that arrive directly to your client or employee without delays.
4. Customized Printed Inserts
This is another great way to personalize your gift. You get to choose the message to be delivered with each box. That way, whoever receives their Holy Grail Steaks corporate gift box will also receive your personalized message. It's as if you delivered the package yourself.
Start Your Corporate Gifting Program with Holy Grail Steaks
Are you ready to reward your staff or clients with the best steak around? At Holy Grail Steaks, we have just released a corporate gifting program that gives corporate clients and employees access to our top-of-the-line wagyu steaks, burgers and seafood.
Our corporate gifting program will provide your staff or clients with the opportunity to order from our variety of all-natural and high-quality beef, pork, and seafood. Steak Nirvana begins here at Holy Grail Steaks.
With our dedicated team of steak nerds we have experience that shows. Steak is our passion, and our portfolio of world-class steaks is unmatched. For that reason, our new corporate gifting program will set your company apart, the way our quality steaks have done for us.
Are you ready to gift the ultimate steak experience? Contact us today to find out more about our corporate gifting program. 
---
1 comment
---
---