Maple Bourbon Wagyu Chili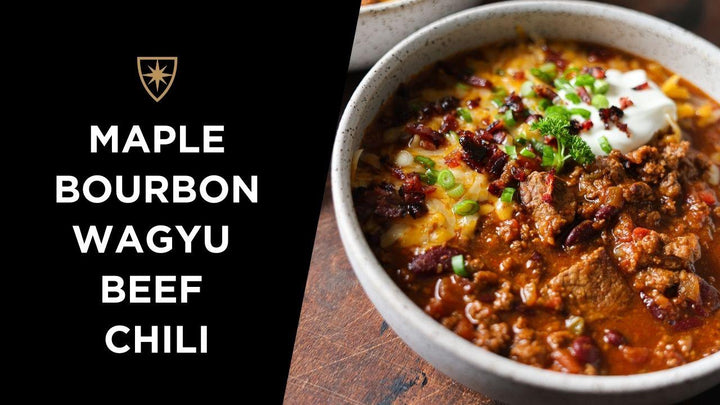 This recipe was made with one thing in mind - to be the Holy Grail of chili. To do that, we combined proteins from 3 of our most popular programs and elevated them with big balanced flavor from pure maple syrup and bourbon. 
We started with the necessities, 2lbs of high quality American Wagyu Ground Beef. It has a taste and texture difference you'll notice in every spoonful. 
From there we added our tender and uniquely flavored Santa Carota Carrot Fed Filet Tips. This leaner protein adds a great bite to this chili and wouldn't be the same without it.
Last but certainly not least, the absolute best bacon we've had so far. The fat melts like wagyu and tastes like heaven. The Mangalitsa Smoked Loin Bacon is an essential part of what elevates this chili recipe. 
Grab your favorite bourbon, fire up your crock pot, instant pot or Dutch oven and make the best chili you've ever had! For your convenience we've bundled all of the proteins you need for this chili in our Wagyu Chili Flight.
Maple Bourbon Wagyu Chili Ingredients
2lb American Wagyu Ground Beef
8oz Santa Carota Carrot Finished Filet Tips, cubed
1lb Mangalitsa Smoked Loin Bacon, divided
1 tbsp olive oil
1 yellow onion, chopped
3 garlic cloves, minced
1 28oz fire roasted crushed tomatoes, with liquid
1 cup beef broth
1/4 cup bourbon of your choice
1/4 cup pure maple syrup
1 15oz can dark red kidney beans, drained
1 15oz can pinto beans, drained
2 tbsp chili powder
2 tsp salt
1 tsp cracked pepper
1/2 tsp cayenne pepper
Toppings for Maple Bourbon Wagyu Beef Chili
Sour cream
Colby jack cheese, shredded
Green onion, diced
Crispy Mangalitsa Smoked Loin Bacon
Jalapeno slices, optional
How to Make Maple Bourbon Wagyu Beef Chili 
Drizzle olive oil in a large stockpot or Dutch oven over medium heat.
Add in the filet tips and cook until outside is browned. Remove and set aside.
Dice 8oz of bacon and cook until crispy, remove that and set aside to drain on a paper towel lined plate.
Add in the onion and garlic and cook until onion is softened. Add in beef and cook until browned and in small pieces.
Stir in tomatoes, beef broth, bourbon, maple syrup, kidney beans, and spices.
Stir in crispy diced bacon and the filet tips. Bring to a boil then cover and simmer on low heat for 35 minutes and up to 2 hours. The longer it cooks the more your flavors will develop. 
Add additional tomato sauce, if needed if chili is too thick.
Place remaining bacon on a baking sheet and cook for 10 mins at 425 degrees Fahrenheit or until crispy to use for topping.
Serve in bowls topped with sour cream, cheese, green onions, and bacon.
---
3 comments
---
---