Improve Your Grilling Game with These 5 Upscale Memorial Day BBQ Ideas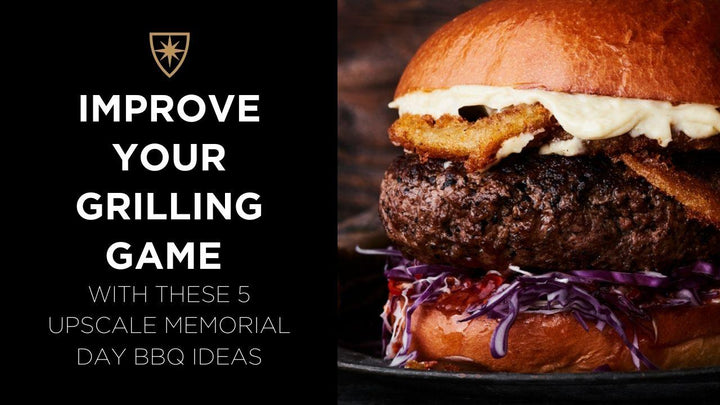 Cooking for a crowd this Memorial Day weekend? Whether you're gathering at the lake, attending a block party, or hosting an event in your own backyard, you'll want an easy BBQ party menu that goes beyond the basic fare.
Fire up the grill and check out these upscale Memorial Day BBQ ideas.
Upscale Memorial Day BBQ Ideas to Impress Your Guests
When we think of BBQ food ideas for large groups, we usually think of hamburgers, hot dogs, and brats. They're easy to manage, fairly quick to cook, and can feed a lot of people. But what if, for the same amount of effort, you could serve up something more memorable for your holiday gatherings? Here are five upscale BBQ menu ideas to try this three-day weekend.
1. Wagyu Brisket, Short-Rib Burgers
Kick your burger game up a notch with these outstanding 8-ounce patties.
Made from a blend of Tajima American Wagyu porterhouse, New York strips, and T-bone steaks, these brisket patties are melt-in-your-mouth delicious. Grill to perfection and serve on top of a toasted buttery bun with a dab of barbecue sauce, and you'll be the talk of the neighborhood.
American Wagyu is a breed of cattle that combines the purebred Japanese Wagyu and traditional American cattle. Wagyu is known for its unusual marbling throughout the meat, which gives it a buttery texture and robust flavor. These luxury burgers are unlike any you've ever tasted.
Really need to feed a crowd? Our burger loader package allows you to enjoy 12 pounds of our best Wagyu burgers.
2. Kurobuta Rack of Pork
If you're looking for a show-stopper upscale BBQ menu idea that feeds a group, this is the way to go.  Prevalent in Japanese cuisine, Kurobuta pork is a heritage hog breed that is known for its high-fat content and wonderful marbling. The result is a meat that is juicy, tender, and rich with flavor. These organic hogs are raised without hormones or antibiotics, so they're good tasting and good for you.
The Kurobuta rack of pork is skillfully French-trimmed by professional butchers, so it looks stunning when displayed at your cookout. It's simple to prepare, and at eight pounds, provides plenty of meat to serve 8-10 people. It's great for a group, easy on the chef, and delivers the elegance of a five-star restaurant with the ease of a backyard BBQ.
3. Dry-Aged Upper Prime Black Angus Cowboy Ribeye
To feed a crowd, you can't go wrong with a large steak. This dry-aged upper prime Black Angus cowboy ribeye is leaps and bounds above the average ribeye. Our USDA upper prime Black Angus is the most tender and succulent Black Angus meat you can get. These purebred cattle are raised organically, so they're free of hormones and antibiotics.
Because the ribeye is cut from the rib area, where muscles aren't worked very hard, the meat is extremely tender. Its white marbling throughout the meat helps to tenderize it further as it cooks, so the result is an extremely buttery steak. Cut ribeye remains on the bone, which packs the meat with flavor. Between the high-fat content and the bone-in flavor, your guests will enjoy a rich, juicy, mouthwatering steak this Memorial Day weekend. At 20 ounces, a single ribeye can be shared among several people.
These steaks are in limited supply and high demand, so you won't find them at your grocery butcher counter. Order yours today and we'll deliver it right to your door.
4. Sonoma County Rack of Lamb
For a less traditional Memorial Day BBQ idea, consider this rack of lamb. Sonoma County lambs are free-range animals allowed to enjoy a natural diet and plenty of room to grow. The result is robust, healthy meat that's delicious and tender.
This rack of lamb is an 8-bone roast, artfully butchered and French-trimmed for a professional presentation. With minimal effort, you can grill this rack to perfection and then slice it into chops to feed a hungry crowd. Serve it on the bone like a meat lollipop for easy distribution, or plate it for a sit-down meal. Either way, your guests are sure to be floored by the amazing texture, flavor, and juiciness of this delectable meat.
5. Santa Carota Carrot Finished Strip Steak
This strip steak comes from the loin of the cow, which means it's already extremely tender. But Santa Carota cattle are free-range cows fed a diet of fresh carrots, whose moisture and natural sugars break down the meat for an even more succulent steak.
Santa Carota cattle are non-GMO, free of hormones and antibiotics, and are completely organic. They also won't leave you feeling fatigued after a delicious meal.
These strip steaks have extremely low levels of saturated fat, so they cook 20-30% faster than regular beef. This comes in handy when grilling for a crowd of hungry guests. These delectable steaks are not only a meat lover's favorite. They can easily be sliced and distributed among several plates as well, so they're great for any BBQ gathering.
Grilling Cooking Tips
Memorial Day weekend unofficially kicks off the grilling season. As you prepare to cook your favorite meats for family and friends, there are a few cooking tips you should bear in mind.
Remember to:
Properly thaw frozen meat: Steaks should defrost in your fridge for 24-48 hours before cooking them. Didn't plan ahead? For a quick thaw, you can put your meat in a sink filled with ice water or cold water until it's completely defrosted.
Let them rest: Before cooking, allow your meat to rest until it comes to room temperature. After cooking, let steaks sit for about 10 minutes before cutting into them.
Cook dry meat: Give the pieces of meat a good pat to dry them before cooking. If they have too much surface moisture, they'll boil and not sizzle.
Use the right tools: Properly cooking meat is all about reaching the right temperature. Take the guesswork out of reading internal temps with a quick read meat thermometer.
Order Your Upscale BBQ Meats Today
Upscale Memorial Day BBQ ideas don't have to be complex to be memorable. Simply choose quality meat and cook it well. At Holy Grail Steak Co., we provide an incredible portfolio of world-class steaks and meats for all of your BBQ party menu ideas. Aged to perfection and shipped in state-of-the-art packaging, we deliver quality meat right to your door.
Shop our entire collection today to find upscale meats for your Memorial Day weekend BBQ plans.
---