Treat Him to Meat: 5 Father's Day Meat Gifts for Foodies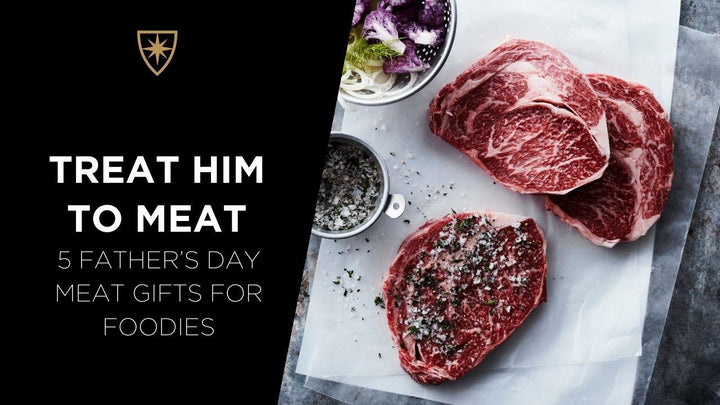 Father's Day is June 20th, and if you're like most people, you're scrambling for gift ideas. Shopping for Dad seems to get harder every year. After all, what do you get the man who has everything? Skip the mug and ditch the neck tie. If your dad is a meat-loving home-chef with high-quality taste, we've got the answer. Consider sending Father's Day meat gifts to the father figures in your life.
5 Father's Day Meat Gifts for Him
At Holy Grail Steak Co., we offer an extensive portfolio of premium steak and meat gifts for him. With so many products to choose from, we're sure to have something for everyone on your gift list. Consider some of our bestsellers as possible gifts for Dad this Father's Day.
1. Upper Prime Black Angus Tomahawk 2- Pack
This package of two Tomahawk steaks is a meat lover's dream come true. The cuts are essentially a bone-in ribeye, taken from beneath a cow's ribs. Since these muscles aren't much utilized, Tomahawk steaks are particularly tender and make for a mouth-watering meal.
Packed with beefy flavor, this is the most tender, succulent, and juicy Black Angus Tomahawk steak you can get. Our partner is arguably the best and most consistent Black Angus cattle producer in the country with the purest genetics around. With only about 1,000 head available each year and very high demand, their steaks can be found only at the best luxury steakhouses in the country - you won't find it at your local grocery store or butcher.
These cuts are enormous. Each one is roughly two inches thick and almost  three pounds heavy. Their size coupled with the large French-trimmed bone makes them look like a Tomahawk ax (hence their name).
The Tomahawk steaks make for an impressive presentation and are bursting with rich flavor. Whether your dad wants to feed his inner caveman, or you want to use this as an opportunity to share a meal together, the Upper Prime Black Angus Tomahawk 2-Pack is a sure winner.
2. Upper Prime Black Angus 3X Ribeyes + 3X New York Strips (6 Pack)
Our USDA upper prime Black Angus is the most succulent and tender you can get. We proudly partner with the country's most consistent Black Angus cattle producer, who raises organic, purebred cattle. With limited supply and high demand, you won't find these delicacies at your local butcher counter.
Ribeyes come from the rib area and are still attached to the bone, which gives the meat terrific flavor. They contain beautiful marbling throughout, helping to tenderize the meat while cooking. Their high-fat content gives the cooked meat a buttery texture and rich flavor, bursting with mouthwatering juiciness.
New York strips come from the loin of the cow, another area for tender meat. Like the ribeyes, New York strips are well marbled and have a full-bodied flavor. Although they're tender, people enjoy their firm bite and solid chew. They make for a wonderful dining experience.
This six-pack of delectable meats can be enjoyed for multiple meals. With 32oz. of steak, they're a great value – and that's something every dad will appreciate.
3. Sonoma County Rack of Lamb
The lambs of Sonoma County roam free on their land, a natural environment with nutritious diet and room to grow. As a result, these healthy animals produce some incredible meat. Not only is the rack of lamb extremely tender and full of delicious flavor. It's also surprisingly easy to cook, so people can enjoy a fine dining experience in the comfort of their own home. Served on the bone, a rack of lamb makes a beautiful presentation for anyone's dining table.
Our elegant 8-bone roast is skillfully butchered and French-trimmed, revealing bare bones for a memorable show-stopper. It's sure to delight your gift recipient. They'll remember not only the gesture but also the delicious meal you provided for Father's Day.
4. Kurobuta Rack of Pork
If your dad prefers pork, then this is the gift for him.
Kurobuta Pork is a heritage breed prominent in Japanese cuisine. It's best known for its wonderful marbling, which makes it extremely tender, juicy, and bursting with flavor. The moment you see its rich red color, you'll realize this is a high-quality piece of meat. Kurobuta pigs are raised organically, with no antibiotics or hormones. They're a healthy addition to any meat eater's diet.
This rack of pork is craftily French-trimmed by expert butchers, and it's an easy dish to prepare and a stunning display to behold. Elegant and as high-quality as any renowned restaurant, this beautiful rack of pork is an ideal gift. At eight pounds, it serves 8-10 people.
5. Steak Gift Box and Gift Cards
Not sure which meat your dad would enjoy the most? Select from our curated Father's Day Steak Collection.
This collection of meat will provide a delightful smorgasbord and allow your gift recipient to try a variety of our finest steaks. They'll all keep in the freezer, so he can take his time enjoying each one. What dad wouldn't enjoy opening a Father's Day meat box?
Or, better yet, keep things easy by simply sending him a gift card. Let him peruse our products and choose his own favorite cut of meat. When you purchase a gift card, your recipient will receive it via email, along with instructions on how to redeem it. Gift cards are sold in values of $250 and $500 with no additional processing fees.
We Use State-of-the-Art Shipping
Not sure about the idea of sending meat in the mail? We've got you covered. Our expert butchers age our selection of meats perfectly, skillfully cut them, and instantly vacuum seal them before freezing them for shipping. This process perfectly preserves and protects our meats, ensuring we deliver high-quality goods every time.
For added protection, each order is packed in dry ice. Our state-of-the-art shipping containers are insulated, recyclable, and biodegradable. Once it reaches its destination, it's easy and safe to dispose of. Simply wash it and then dissolve it in the sink.
We deliver our prime selection of meats right to your recipient's door, so the whole process – from placing the order to unpacking the product – is hassle-free. The dads in your life deserve the best. Our shipping process makes sure that's what they get.
Steak Presents Make the Perfect Gift this Father's Day
Show the number-one man in your life how much you appreciate him. Send him a steak present this Father's Day. Quality meats are an unusual yet highly thoughtful gift. While most people enjoy eating a premium steak, they won't often treat themselves. Consider Holy Grail Steak Co. premium cuts of meat for your Father's Day meat gifts.
---