Answers to Your Questions About Prime Rib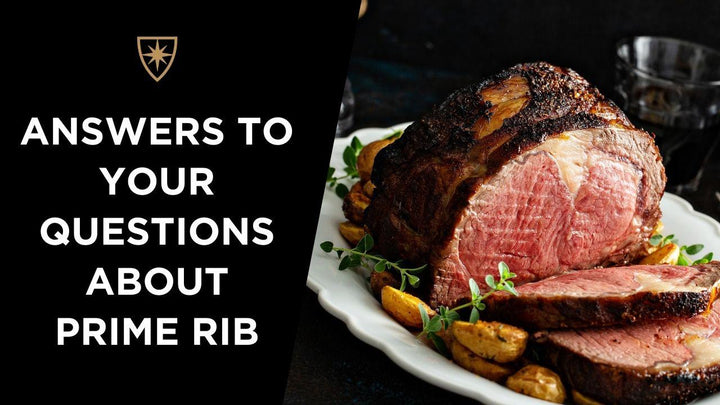 Hello beef-eaters! 
Salutations and happy almost-holiday season. This is one of my favorite times of year -- especially Thanksgiving. On no other occasion does much of America get two days off work for such a simple premise -- preparing and enjoying an incredible meal together.

I'm here for every bite of it and many of you are too.

I've been talking to many of you as you're planning your own upcoming holiday meals. It delights me, beyond reason, when I hear that prime rib is on your menus. This behemoth of beef is more than worthy of the spotlight at your table. After a few conversations with customers planning on prime rib, I started noticing a pattern. Many of you have the very same questions. If a dozen Holy Grail customers are asking the same thing, I figured others might find the answers useful too.
How many ounces of prime rib do I need per person?
My response to this question is usually to toss this back to you guys. What kinds of appetites are you dealing with? If it were me, well, I'm a large person who eats a lot, so I go for the fattest slab and I will be first in line for seconds without shame.
The calculation of my prime rib consumption will be vastly different than that of a child's. Do you have kids? Are they big beef eaters? Are you feeding small people with small appetites or do you live in the Midwest?
Seriously, I try not to adhere to a firm standard, but in general, I go with 8 ounces per person of prime rib for average eaters, up to 14 for big appetites. If you're serving a bone-in roast, size up a little to make up for the weight of the ribs.
Our small-batch, boneless, split-rib roasts range from 5-6 pounds and tend to feed 6-10 people.
Can I still get a prime rib in time for Thanksgiving?
You're in luck. Orders received by 10 am CT on the Tuesday before Thanksgiving can be overnighted to you in time. But we really recommend getting your orders in ASAP. 
Order your Grass Fed Boneless Prime Rib today!
Talk to me about grass-fed rib roasts -- is grass-fed
really
better?
To be honest, it's hard to say. That's because there are certain liberties with how the term "grass-fed" has been marketed. An industrial cattle farm that keeps their cattle penned and feeds them grass pellets can definitely call their product "grass-fed," but that's quite a different image than what I bet most beef buyers have in mind when they read that phrase.
I don't know if penned cattle eating grass pellets actually improves the beef, but that's not what I'm interested in stocking on our shelves or selling to our consumers. It's best to know what those terms really mean and go to the source to learn how the animals are treated.
Personally, this feels like an overwhelming task as a consumer, which is why, as a purveyor of beef, I've committed to only work with small-batch ranches and farms where cows are truly free-range, meaning they get pasture time and are eating actual grass.
What beef myths would you like me to dispel next?
I'd love to hear your burning beef questions, and I'll continue to share my thoughts and insights here for you to hopefully enjoy. 
And I'm not joking when I say I talk to our customers daily. We are a small but well-oiled operation and we always make time to talk to our customers. Whether you're planning a special meal for four or catering a huge gala, whether you're deciding between two of our Japanese steaks or just curious what Wagyu is, we're here to answer your questions so that you can make the best beef choice possible. 
Happy beef-eating, everyone.
Michael Coggins, Co-Founder & COO
---
1 comment
---
---