Tajima American Wagyu & Pumpkin Kabobs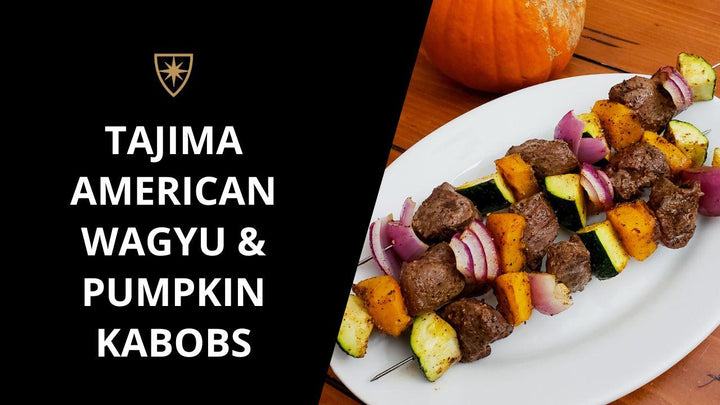 We couldn't resist the chance to use pumpkin for a Halloween party recipe. Pumpkin and steak may seem like a weird match, but with the right seasoning and Tajima Filet Tips, you can't go wrong. These oven roasted kabobs are easy to prep, cook, and clean up and they fill the house with a lovely, warm fall scent. It's easy to swap out the veggies and seasoning on these, but the ones we selected are perfect for Halloween. 
Ingredients:
Tajima American Wagyu Filet Tips (an 8oz package makes 3-5 full size kabobs)
Pie pumpkin, will use 1/3 to 1/2 of the pumpkin
Zucchini
Large red onion
Olive oil
Smoky southwest seasoning of choice
* For our seasoning blend, we used smoked paprika, ancho chile, garlic, onion, chipotle pepper, oregano, cumin, lemon zest, pinch of cocoa powder, dash of cinnamon, good salt, and cracked pepper. Any seasoning blend that has a smoky, spicy, slightly sweet profile will work wonderfully here!
Instructions:
1. Preheat the oven to 375 degrees. Prepare a roasting pan with foil. Soak your skewers if they are wooden.
2. Remove filet tips from packaging and cut any larger filet tips into kabob portions. You may not need to cut any depending on preference.
3. Put the filet tips in a bowl with a drizzle of olive oil and plenty of seasoning. Cover and refrigerate while you prep the vegetables. 
4. Wash your veggies. Cut the zucchini and approximately 1/3-1/2 of the pumpkin into 1 inch chunks. 
5. Cut the onion in half, then cut each half into three wedges. You can break up each wedge if you need more pieces. 
6. Put all the cut veggies into a bag or bowl. Cover with a drizzle of olive oil and the seasoning. Shake/stir until well coated.
7. If you prefer your veggies to be cooked more, pre-roast the veggies for about 5 minutes. If you like them cooked to just fork tender, you can skip this step. 
8. Remove the filet tips from the refrigerator while the veggies roast. This allows them time to come closer to room temp for a more accurate cook time.
9. Assemble your kabobs by alternating your veggies and meat. 
10. Roast in the oven for approximately 15 minutes, rotating the kabobs halfway through. For medium rare kabobs, remove when the meat reads about 130-135 degrees.
11. Let rest for 5-10 minutes and enjoy!
---