Strip Steak with a Red Wine Mushroom Sauce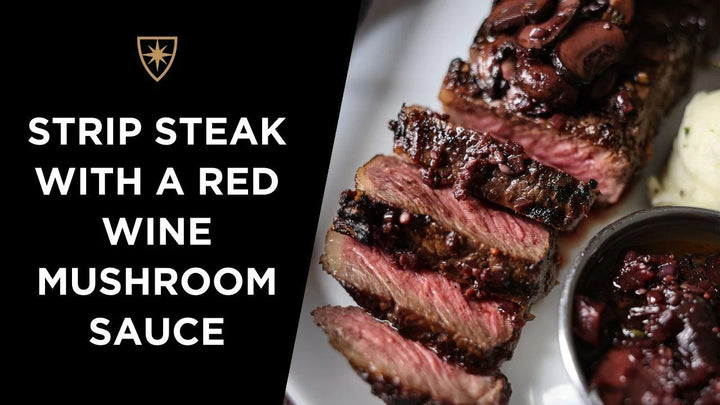 Take your next steak dinner to new heights with the classic combination of red wine and mushrooms. A steakhouse pairing that's easy to make and brings big flavor. Here's what you need to recreate this dish.
Ingredients:
1 Santa Carota Prestige Strip Steak

Red Wine Mushroom Sauce:
¾ cup red wine
3 cloves garlic, minced
1 small shallot, minced
1 tablespoon soy sauce
1 tablespoon fresh thyme, finely chopped
1 teaspoon salt
1 teaspoon pepper
¼ cup cremini mushrooms, chopped
1 tablespoon olive oil
Instructions:
In a medium bowl, combine red wine with garlic, shallots, soy sauce, thyme, salt and pepper. Place steak in a ziplock bag and pour half the mixture into the bag to cover the steak. Seal and place in the fridge to marinate for 1 hour. Reserve the rest of the sauce for later.

Heat up a skillet over medium heat. Add olive oil and mushrooms and sauté until they reach a deep brown color. Stir in the rest of you red wine sauce. Continue to cook until the sauce reduces by half and thickens just by a little. Remove from heat and place in a bowl.

Remove steak from refrigerator and allow to sit at room temperature for about 45 minutes. Heat up your grill or cast iron skillet and sear on both sides. Check for desired doneness and remove steak at 125 for medium rare. Let it rest for 10 minutes and serve with red wine mushroom sauce poured over the top.
---