Best Side Dishes for A Steakhouse Dinner at Home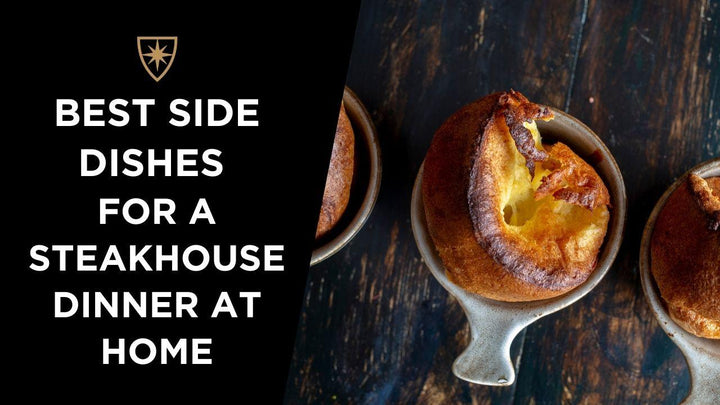 Everyone loves a good steakhouse dinner. From the leather booths to the smell of grilled meats in that low-light setting, it's a dining experience like no other.
The perfect steakhouse dinner isn't just about the steak. It's about the side dishes that come with it too. Mashed potatoes, broccoli, buttered asparagus, and the likes are what complements a perfectly cooked steak, making it a complete steakhouse dinner.
The current pandemic situation may deter you from visiting your local steakhouse. So, why not try recreating that experience at home?
In this article, we will list some of the best side dishes for a steakhouse dinner you can try in your own kitchen. With these side dishes, you can have a steakhouse dinner every season.
Mushroom Bordelaise
Mushrooms, like potatoes, go a long way with steak dinners. You can make sauces with them or sauté them to make this mushroom Bordelaise that's rustic yet classy. Porcini mushrooms are the best for this recipe, but you can opt for other big mushrooms like portobello and shiitake as you'll be using the caps and stems. Serve it as a side dish or on top of the grilled steak.
Yorkshire Pudding
A classic British side dish, the Yorkshire pudding is traditionally served with Sunday roast but has also been a popular side dish accompaniment for steaks. It's similar to the American popovers and goes great with a rich gravy. The pudding is usually made with beef drippings or bacon fat but can be substituted with vegetable oil.
Mashed Potatoes with Butternut Squash
Why not enhance the classic mash potatoes by adding a sweet twist to it? Autumn is the perfect season for butternut squash, and this dish is sure to impress your guests and elevate your steakhouse dinner game. You can make this dish ahead and keep it at room temperature. When you're ready to serve, just heat over moderate heat with a slice of butter to get that creaminess.
Cheesy Bacon Scalloped Potatoes
Steak and potatoes are like a married couple. Cheese and bacon just add a little more spice to that marriage. This is an easy oven dish that's foolproof and comes out perfect every time. This recipe calls for cheddar cheese, which goes well with the cream sauce, but you can make it yours by using Gruyere or Parmesan for a sharper flavor.
You can make this side ahead of time and just reheat it in the oven before serving. The key tip is to make sure the potatoes are fall-off-the-fork tender and the cheese is fully melted. It's the perfect, hearty side dish for any cold winter night.
Creamed Corn
The creamed corn is a staple side dish in most steakhouse dinners. It should be creamy, milky, and just the right amount of salty. The key to making this dish great is using fresh corn and a corn creamer. Don't skimp on quality by using canned cream corn as it just won't taste the same or have the same creamy texture.
Creamed Spinach with Pearl Onions
Step up your cream spinach game with pearl onions and Parmesan cheese. This creamy, savory dish only takes 25 minutes to prepare and cook and requires ingredients you probably already have in your pantry. It's also a great way to use up any old spinach sitting in your refrigerator!
Classic Succotash
Springtime calls for fresh vegetables and herbs like the classic Southern succotash. This is a great side dish as its zesty flavors balance out the richness of the steak. You can pack this dish with lima beans, onions, and corn – or spruce it up with some edamame, red bell pepper, and cherry tomatoes. The colors from the vegetables make it a pretty springtime side dish for any steak dinner.
Heirloom Tomato Salad with Herbs
Speaking of tomatoes, this simple tomato salad is a memorable one with fresh tomatoes and herbs that look beautiful and taste great. The recipe calls for heirloom tomatoes, but you can use other tomatoes in season, like cherry or Roma. Try using tomatoes with a better crunch and not one that's watery. The key to making this dish great is letting the marinated tomatoes stand for 10 minutes, allowing them to fully release their flavor and juices into the vinaigrette dressing. This salad is perfect at room temperature or chilled if you're making it ahead of time.
Pancetta with Asparagus
Pancetta and asparagus are good on their own, but together, they make a great side dish for a steakhouse dinner. This is an easy-to-make recipe that only takes a few minutes to make. The crispiness from the pine nuts, leeks, and sautéed pancetta is sure to impress others at your dinner table. Be sure to make extra as this recipe is known to be part of the clean-plate club.
Farofa
Add a Brazilian twist to your steakhouse dining experience by making Farofa as a side dish. Farofa is traditionally made of toasted cassava flour and is commonly found in a Brazilian steakhouse. It has a smoky, toasty, and slightly salty flavor that can be customized with other ingredients like bacon or nuts. Farofa is usually sprinkled on cooked meat but can be nibbled on as a side dish.
Smoke-Roasted Florida Oysters and Clams
Add elegance to your steakhouse dinner by serving this fresh smoke-roasted oysters and clams as a side dish. It may cost a little more and take more time than a usual side dish, but the effort will be well worth it. You can make this on the grill while you're grilling your steaks. All you need is a grill basket and some unsoaked woodchips for that added smokiness.
Grilled Baby Potato Salad
This is another side dish you can prepare on the grill alongside your steaks. Unlike the traditional potato salad, this recipe replaces mayonnaise with vinegar and olive oil, which adds a zesty touch to your meal. Grilling the potatoes will also add a smokey flavor to the salad. This recipe is best served immediately while it's hot.
Concluding Thoughts
These are just some side dish suggestions for your at-home steakhouse dining experience. You can prepare anything you want depending on your preferences and what you have in your pantry. That's the beauty of cooking at home!
A good piece of grilled steak is great for any season. Just tweak your side dishes and you'll never run out of options. With Holy Grail Steaks, you won't even need to step out of the house to buy your steaks. We can deliver the best cuts directly to your doorstep.
Are you looking for the perfect steak for your steakhouse dinner? Choose from our wide selection of world-class cuts today.
---