Squash Tagliatelle with Santa Carota Prestige Hibachi Strips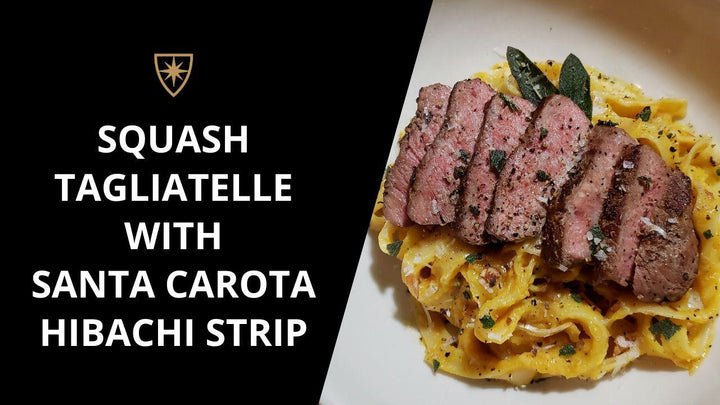 Colder weather and colorful fall leaves call for a warm bowl of vibrant pasta. The butternut squash makes a beautiful, bright sauce that is both cozy and fresh. The hibachi we chose brings another layer of welcome flavor without weighing you down - that's the beauty of Santa Carota carrot finished beef. It's low in saturated fat and high in vitamins A and B12, so it pairs extremely well with this squash forward dish. We've been dreaming up this recipe for a while and are so excited about how unique and delicious it turned out. Enjoy the full recipe for four or half everything for an exquisite date night meal for two. 
Ingredients:
4 Santa Carota Prestige Hibachi Strips (each package contains two 4oz hibachis)

Tagliatelle or fettucine 

1 small butternut squash 

1 yellow onion

6 cloves garlic

2 tbsp cream

2 tbsp butter

Fresh sage (2-3 leaves per serving)

¼ cup fresh grated parmesan

Olive oil

Lemon zest
Instructions:
Preheat the oven to 425. 

Wash and dry the squash. Peel and cut into 1 inch cubes and place on a sheet pan. 

Peel and half the onion. Cut into wedges and place on the sheet pan with the squash. 

Drizzle olive oil over the veggies and add a sprinkle of salt and pepper. 

Roast in the oven for 15 minutes or until squash is fork tender.

Blend the squash, onions, 2 cloves of garlic, 2 tbsp cream, and 2 tbsp of butter until smooth. Set aside.

Boil 4 qts of water and add a tsp of salt.

Cook pasta to al dente according to package directions. Reserve ¼ cup of pasta water once done.

While water is boiling, add a generous sprinkle of nice salt and cracked pepper to each side of your hibachi strips and set aside.

Heat 2 tbsp of oil in a pan over medium heat.

Thinly slice the remaining garlic cloves and add to hot oil.

When garlic slices are almost crispy, toss in the sage leaves. Remove when garlic is golden and sage is bright green. Keep the pan on the heat, but raise to med-high temperature. 

Add your hibachi strips to the hot garlic sage oil. Flip every 30 seconds for about five minutes. Remove from the pan when the meat's internal temp reaches 130 degrees and let rest.

Pour the oil into a bowl and set aside. Return the pan to a low heat. 

Add the squash blend to the pan and stir in 4 tbsp of pasta water. You may add more water as needed to thin out the sauce.

While stirring, slowly add in the fresh grated parmesan. Once incorporated, add in your cooked pasta.

Cut your hibachis into thin slices. 

Plate your pasta, add a sliced hibachi strip, and top with crispy garlic, sage, and lemon zest. Drizzle a small amount of the garlic sage oil over the top. Add a sprinkle of quality salt and cracked pepper. Voila!
---