Ribeye Steak with Lemon Soy Sauce Marinade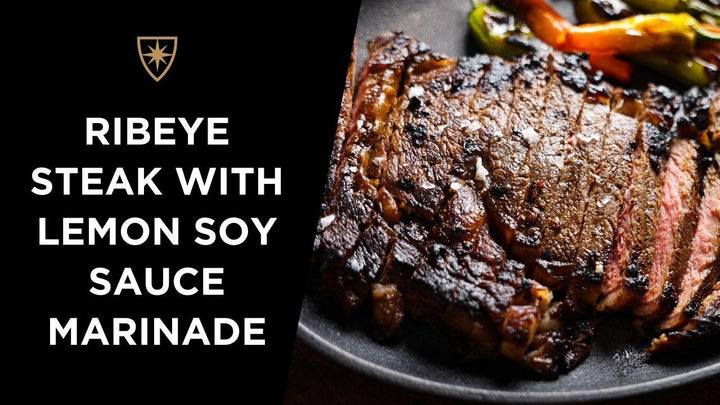 Don't settle for the same old boring ribeye. Add a burst of flavor with the combination of fresh lemon and soy sauce that's super easy to make. Trust us, your taste buds will thank you!
Lemon Soy Sauce Marinade
¼ cup soy sauce
3 tablespoons lemon juice
¼ cup olive oil
2 tbsp Worcestershire sauce
2 garlic cloves, minced
½ teaspoon ground pepper
¼ teaspoon salt

Topping: Coarse Sea salt
In a small bowl, combine soy sauce, lemon juice, olive oil, Worcestershire sauce, garlic, pepper and salt.
Place ribeye steak in a ziplock bag and pour in marinade. Marinate for at least 1 hour, or even overnight.
Turn your skillet on medium high heat.
Cook your ribeye steak on each side for about 5 minutes, or until you get a nice char on each side.
Continue to cook until it reaches your desired doneness.
Let your ribeye steak rest for at least 5 minutes before slicing.
Top with coarse sea salt.
We recommend serving this steak with a side of blistered shishito peppers!
---