Pulled Pork Loin Roast with Lillie's Q Gold Sauce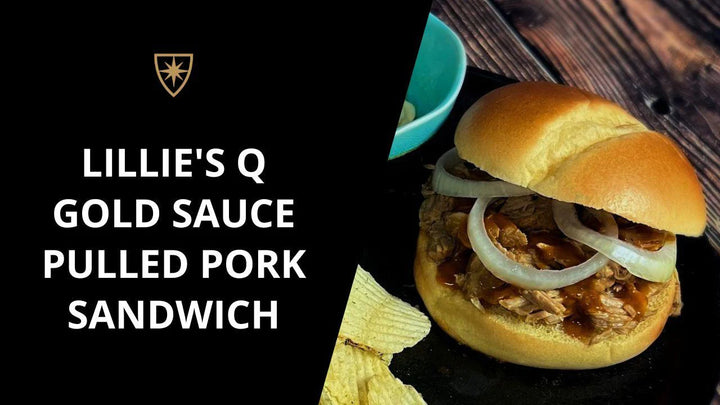 We know what you are probably thinking...a boneless pork loin for pulled pork? Yes, it can be done and done well at that. You may usually go for a fattier cut like a shoulder roast, but the fat cap on this roast still imparts flavor without making the pork super rich. The Lillie's Q Gold Sauce is a South Carolina BBQ inspired, mustard based sauce and it is an exceptionally good pairing for our Kurobuta pork. We also used Lillie's Q Brisket Pepper and Q Rub to season the pork. You can find several flights from our collaboration with Chef Charlie McKenna, founder of Lillie's Q, here. These flights were hand selected by Chef Charlie to feature the best pairings from Lillie's Q and Holy Grail. 
Ingredients: 
Kurobuta Boneless Pork Loin Roast ~3-4 lbs
Lillie's Q Brisket Pepper
Lillie's Q Q-Rub
1 cup Lillie's Q Gold Sauce
4 tbsp apple juice
Toppings: 
1 thin sliced white onion (we like to quick pickle for some extra tang)
1 granny smith apple, finely diced
1 bag of coleslaw 
Coleslaw dressing to taste
Buns
Recipe: 
1. Season the pork well with the Brisket Pepper and Q-Rub. Leave aside for about half an hour. 
2. In the meantime, bring your smoker to 275 degrees. Add the pork when ready.
3. While the pork cooks, mix together the apple juice and 1/2 cup of Gold Sauce.
4. Smoke the pork until the internal temperature is 145 degrees (1-1.5 hours). 
5. Remove the pork from the smoker and place in aluminum foil or a roasting pan. Pour the apple juice mixture over the top and seal the foil. 
6. Return the pork to the smoker and cook until the internal temperature reaches 205 degrees. Remove and let rest for a half hour. 
7. Mix together the granny smith apple, coleslaw, and coleslaw dressing. Season to taste.
8. Shred the pork and add back in some of the liquid from cooking.
9. Serve on buns with white onion, apple coleslaw, and the remaining Gold Sauce.
---