3 Steak Marinades That Will Make You Feel Like A Michelin Star Chef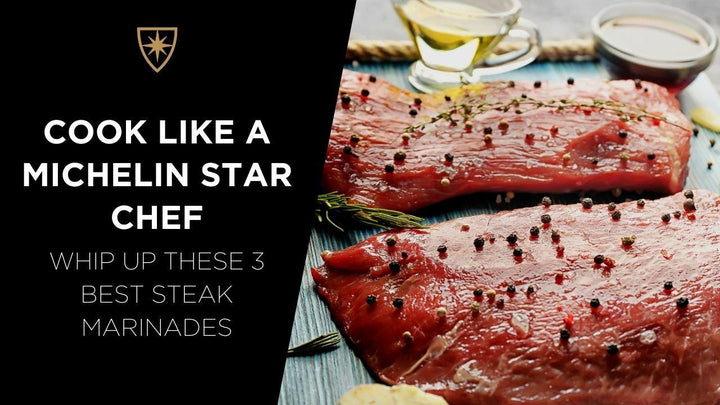 What do you do when you're craving a steak, but you're tired of the same old, same old? If you're looking for a way to make your next steak dinner more enjoyable, then you'll want to consider trying out some of the best steak marinade recipes that help to give your steak a unique flavor.
Should You Marinate Steaks?
While many steak connoisseurs might proclaim that marinating a steak is not necessary, there are several reasons why you should consider marinating your steak. Not only is it a perfect way to change the flavor profile of the steak, but it's also a fantastic way to explore different flavors.
Marinating a steak also helps to tenderize the meat, perfect for those who love their steak with a little bit of chew. It's also an excellent way to ensure that your steak remains as juicy as can be.
How to Properly Marinate a Steak
Properly marinating a steak is going to depend on the type of steak you'll be using. For example, a strip steak will need a different marinade than a ribeye steak because of its different textures and flavors.
While you can typically utilize any recipe for any steak you want, you will need to consider several different factors when choosing which recipe to use, including how long you have to marinate the steak and how much marinade will be needed to infuse the steak with the right amount of flavor.
Depending on the tenderness of your steak, you can easily marinate different cuts of beef from 5 minutes to overnight. We don't recommend marinating beef for longer than 24 hours since you will the run risk of mushy steak which isn't good for anyone!
The good news? The steps to marinating a steak are pretty much the same, with the only significant difference being how to marinate a steak with a wet marinade versus a dry marinade.
Dry Marinades vs. Wet Marinades
Wet and dry marinades are two of the most popular ways to cook meat. When marinating a steak in a wet marinade, you're essentially infusing the meat with the marinade's flavor. These types of marinades use a combination of spices, herbs, and other ingredients, as well as oils, vinegar, or citrus juices to create the steak's flavor profile. When ready, you simply place your meat into a container with the marinade and let it sit for a few hours or (ideally) overnight – depending on the steak you are working with.
Dry marinades, most referred to as a rub, are a bit different in that they use spices, herbs, and other ingredients to create the steak's flavor profile. No wet ingredients are used in this process. When working with a rub, you want to completely rub down your meat at least an hour before cooking so that the spices can penetrate the meat. You can also add additional rub to the meat at the time of cooking to give it a little extra boost of flavor.
Is one better than the other? No, it just comes down to how you are going to be preparing your steak. If you'll be pan-searing it, then a wet marinade is going to be ideal. If you are going to be grilling it, then a dry rub will be your best option.
3 of the Best, Simple Steak Marinades You'll Want to Try
Want to impress your friends with a delicious meal? Then you'll want to try out one of these best steak marinades to make your next steak dinner a memorable one.
1. Balsamic Marinade with Olive Oil and Lemon
The first steak marinade recipe you'll want to try out uses balsamic vinegar to create a unique flavor. It's a great way to add a little bit of sweetness and acidity to your steak.
The recipe calls for olive oil, balsamic vinegar, a few cloves of garlic, freshly ground salt and black pepper, rosemary, and lemon juice. When you're ready to marinate your steak, simply mix all ingredients and let sit for at least 30 minutes.
Prepare your steak by removing its tough, connective muscle and trimming the edges.
Place the steak on a plate and pour the marinade over it. Cover the plate with plastic wrap and let marinate in the refrigerator for 20-30 minutes.
Recommended Cut: Strip Loin Steak
2. Simple Rib Steak Marinade
The beauty of this marinade is that it can be used with any cut of beef and only requires a few simple ingredients, including olive oil, lemon juice, Worcestershire sauce, soy sauce, garlic, and good old salt and pepper.
Simply mix all your ingredients in a bowl along with your steak and let marinate for up to eight hours.
Recommended Cut: Ribeye Steak
3. Overnight Marinade
Some of the best steak marinades are left to marinate overnight, allowing them to infuse the meat with a variety of flavor profiles.
Ingredients for this overnight marinade include soy sauce, olive oil, lemon extract, vegetable oil, Worcestershire sauce, garlic powder, dried basil, dried parsley, and crushed pink peppercorns.
Once you've had a chance to combine all your ingredients, simply pour the mixture over your steak and seal it in an air-tight container, and set it in the refrigerator for a minimum of eight hours. Since these will have plenty of time to sit, you can use a thicker steak for this recipe, including ribeye or porterhouse.
Recommended Cut: Filet Mignon
Choose The Best Steaks for Your Next Marinade with Holy Grail Steak
The best steak marinades are nothing without the right cut of meat. That's why you want to be sure that you are investing in only the best of the best. Whether you're looking for a specific steak or want to make sure that you're getting the best cut of steak possible, you'll want to use Holy Grail Steak.
We are a premium steak brand committed to offering all of our customers the best steak experience possible. We are committed to providing the best steak cuts possible and have a wide variety of high-quality cuts to choose from.
So don't wait! Check out our collection today!
---