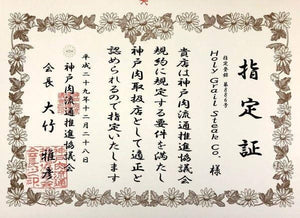 ORDER NOW FOR SHIPPING BY THE HOLIDAYS
Kobe Beef and Takamori Drunken Wagyu are almost back and you have first access to reserve yours now. We will be receiving these in time to ship before the holidays in December. Whether it's for an intimate dinner or an elegant gift, A5 Wagyu is an experience unlike any other.
Kobe Beef is considered the pinnacle of Japanese wagyu and is extremely rare - a very limited amount of cattle can be designated Kobe Beef and even fewer are available for us to import. Takamori will have one of the more unique flavors among Japanese wagyu because these cattle are fed a sake mash made of the spent rice from the makers of one of Japan's top-quality sake producers. 
**If you wish to order products from elsewhere on the site and would like the other items to arrive sooner than the Kobe or Takamori, please place a separate order. Orders placed with both these and regular products will be shipped together in December. Thank you!**
Kobe Beef
Named after the city of Kobe in Hyogo Prefecture, this remote region's isolated genetics allowed for the development of what is known today as the Tajima line, a very pure genetic breed of cattle whose DNA has been sought after and spread to other cattle throughout Japan but which remains unadulterated in the Kobe region, and its purity is jealously guarded by the small farmers that comprise the Kobe association. Kobe Beef is extremely rare with under 1,000 head a year exported for the entire globe. Literally the cream of the crop, Kobe Beef is limited to only the top cattle of the Hyogo Prefecture, limited to A4 and A5-grade only.
Takamori Drunken Wagyu
Takamori is a town on the eastern coast of the Kumamoto Prefecture in Japan. It is located on the island of Kyushu, which is the southernmost of the four main islands of Japan. Kyushu is famous for its excellent beef and has a rich history of farming and raising cattle. Takamori Drunken Wagyu is a Japanese breed known for its extraordinary flavor and tenderness. It is raised solely on a sake mash made of the spent rice from the Dassai Sake Brewery, the makers of one of Japan's top-quality sakes. Because of the area's rich history, the town has a rich culture and a deep appreciation for the quality of its beef. The town has been raising cattle for over 400 years and continues to raise some of the most sought-after cattle today.