What Is Tajima American Wagyu?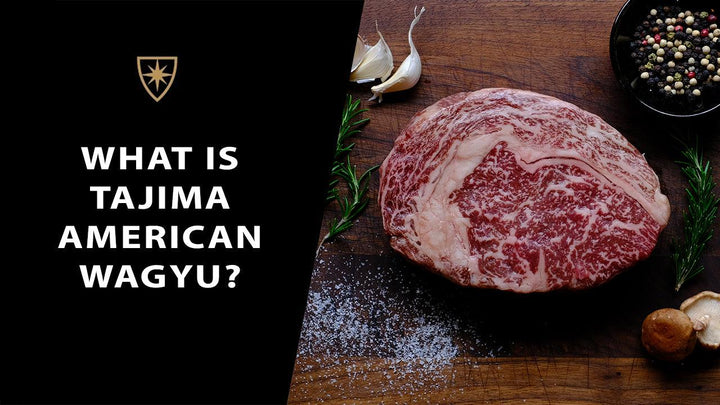 Hand selected at harvest and perfectly aged, Tajima American Wagyu steaks are the pinnacle of the American-raised Wagyu world. A perfect cut for those of you who want an experience that falls somewhere in-between A4 and A5 Japanese Wagyu, about 7-8 BMS on the Japanese marbling scale. Like fois gras, a little goes a long way here and often a single steak is likely to satisfy two people.
A blend of Wagyu and Angus genetics then periodically over-layered with Fullblood Wagyu genetics, our top-end program is overseen by the Godfather of Japanese Wagyu, Mr. Shogo Takeda, who feeds out the cattle a traditional yet proprietary Japanese Wagyu diet with high-quality Midwest ingredients for two to three times longer than commercial cattle. These animals are humanely raised and harvested with no added hormones or antibiotics.
Shogo Takeda with Japanese Black cattle courtesy of www.goldringwagyu.com
Tajima American Wagyu cattle are from the Japanese Black lineage, the same cattle breed as most Japanese A5 Wagyu. These Tajima cattle are full husbandry, and Mr. Takeda has pioneered and perfected breeding techniques that ensure the highest quality cattle are raised. 
Landing smack-dab in the middle of the marbling spectrum, Tajima American Wagyu perfectly blends the intensity of Prime Angus with the succulence of Wagyu. The quality of their care during life is reflected in every cut of meat that we have sourced for purchase here.
We have two types of Tajima available in this program: Tajima American Wagyu and Tajima Prestige. Tajima Prestige is our top grade in our American Wagyu collection - you simply won't find a more luxurious steak raised in the US.
How to Prepare an American Wagyu Ribeye Steak
Ribeyes have a higher fat content than strips, making the meat juicy and tender. Due to that higher fat content, these will need to be cooked with the avoidance of flare-ups in mind. In a cast iron skillet or stainless steel pan, set the heat to medium high. Salt your steak, and cook for 4 minutes each side for medium rare.
How to Prepare an American Wagyu Strip Steak
American Wagyu strip steaks are tender, and you will want to cook your steak medium rare to enjoy the flavors to their full potential:
Preheat a skillet over high heat

Grease the pan with a little butter or some fat cut from the edge of your steak

Season the steak with a little bit of salt and pepper

Sear for four minutes per side for a medium-rare finish
How to Prepare American Wagyu Filet Mignon
Reverse sear is the preferred method for the filet so that a crust is created on the outside, but the meat is still cooked on the inside. First, bake in a 225 degree oven until the internal temperature reaches 120 degrees Fahrenheit. Rest for 5 minutes, then sear in a cast iron or stainless steel pan for 1 minute each side (including those thick edges). Rest for 5 minutes.
For an added punch of flavor, top your steak with some homemade garlic herb butter when searing in the pan. You could also place some herbs, such as fresh rosemary or thyme in the pan to bring a restaurant-like experience to your home.
---