All About Jack's Creek Australian Wagyu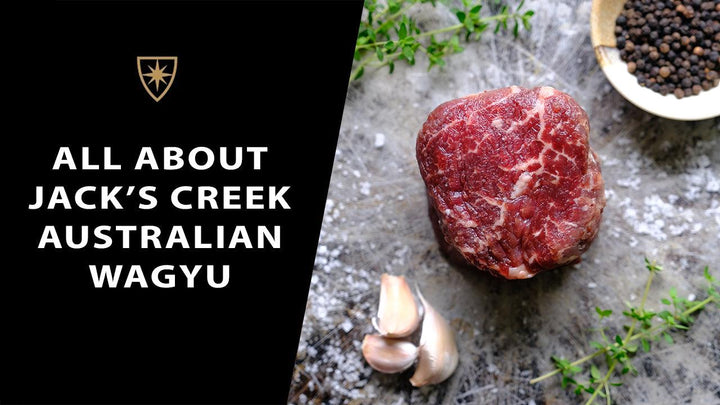 For decades, Australians have had a focused passion and determination to breed and raise Japanese Wagyu in an effort to rival the Japanese. Holy Grail sources its Australian Wagyu beef from Jack's Creek, a family owned and operated ranch in Australia. 
The Warmoll family emigrated to Australia from Ireland in 1852 where they began to work with butcher shops and animal hides. In the 1940s the family began their farming practices that continue to this day. 
The family began their practice as a mixed crop soybean, cotton, and corn farm, then they purchased a cattle property called Big Jack's Creek. Situated on the Great Dividing Range, and known for its temperate climate and reliable rainfall, the family bred Black Angus here for the next 8 years. 
After starting a successful Black Angus program, the family became one of the first Australian ranches to breed, grow, feed, and process what became known as Australian Wagyu beef after they crossed their Black Angus herd with the famous Tajima Wagyu Sires from the Hyogo Prefecture in Japan.
Their Wagyu cattle are 500 day grain fed, allowing them to grow much longer than traditional cattle. This results in a beef that exemplifies the tenet that a steak only tastes as good as it was raised.
Today, Jack's Creek is at the forefront of Australian Wagyu production, proudly holding the current title of 'World's Best Steak Producer' for two consecutive years as well as earning  'World's Best Fillet Steak' in 2017. 
To cook a Jack's Creek ribeye or strip, the grill or a medium high heat pan will do the trick. For a filet, we recommend a reverse sear. Start by baking the filet until it reaches 220 degrees Fahrenheit. Allow it to rest, then sear in a pan with butter, rosemary, and garlic. The result is a steak that is cooked through to medium rare with a crust bursting with flavor.
---