French Onion Soup Wagyu Burger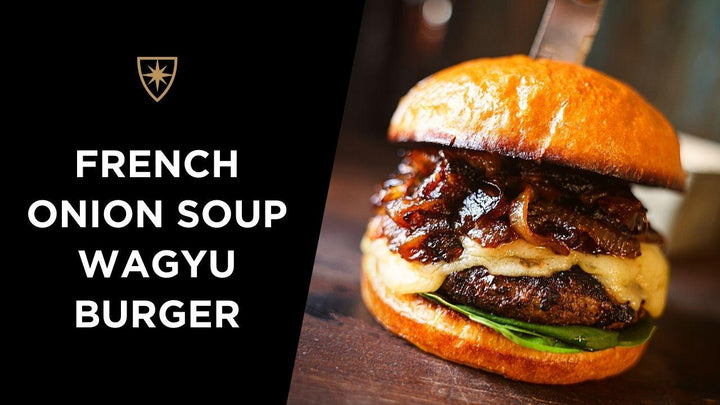 French onion soup conjures up all sorts of food emotions for those of us that love a classic soup dish. It's a flavor combo that has been replicated by chefs for decades, each with their own unique twists.
We wanted to see if the experience could be transferred from a soup to a burger. In order to pull off this interpretation of the classic soup, you have to caramelize your onions perfectly and use a super melty cheese like gruyere. 
This recipe uses our most popular wagyu burger and gets held between the buttery goodness of a brioche bun. 
French Onion Soup Burger Ingredients
1 yellow onion, halved and sliced
¼ cup butter
1 Holy Grail Wagyu Burger, thawed
1 slice gruyere cheese
Baby spinach
1 brioche bun, toasted
How to Make a French Onion Soup Burger
1. In a large heavy bottom skillet over medium-low heat, melt butter and add sliced yellow onion.
2. Continue to cook until a deep brown color is achieved. This can take about 35 minutes stirring occasionally. Be sure not to burn them. Set aside.
3. In your skillet over medium heat, add the wagyu burger patty and cook both sides until brown and cooked through.
4. Add gruyere cheese to the top and cook another 1-2 minutes or until cheese is melted.
5. Use an instant read thermometer until you reach desired doneness, approximately 140-145 degrees for medium.
6. Construct your French Onion Soup burger by adding spinach, burger patty with cheese and onions on your brioche bun.
---